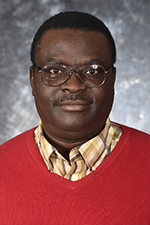 Research Interests:
Soil health management in agroecosystems
Reduced tillage management
Cover cropping strategies for arid and semi-arid farming systems
Soil amendments impacts on soil quality and moisture retention
Glandless cotton management and agronomic optimization
Soil fertility management for arid and semi-arid field crop production
Education:
Ph.D.: Land Management, Cranfield University, UK.

M.S.: Agronomy, University of Gottingen, Germany.

B.S.: Agriculture, Obafemi Awolowo University, Nigeria.
Previous Experience:
Extension Agronomist/Associate Professor, New Mexico State University Las Cruces NM 88003 (2015-Present).
Extension Agronomist/Assistant Professor, New Mexico State University Las Cruces NM 88003 (2009-2014).
Research Associate & Soil Health Project Coordinator, Cornell University, Ithaca, NY (2004-2009):
Coordinated a multi-state research initiative on soil health and reduced tillage.

Worked on the development of the soil health laboratory at Cornell University.

Developed the framework, interpretations and the software for the Cornell Soil Health test currently being used for field assessment of soil quality in the Northeastern USA.
Institute of Agricultural Research and Training, Ibadan Nigeria(1997-2003)
Research Fellow & Head of Statistics and Computation Unit:
Worked on tillage management, soil and nutrient losses, fertilizer management, land use effect on soil properties and soil variability.

Supervision of graduate and undergraduate students

Supervised and managed statistical aspects of agricultural research of the Institute, including experimental designs and data analysis.

Coordinated the support for the statistical and computational need for research applications.