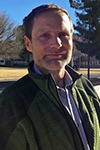 Research Interests:
Dr. Niall Hanan is a community and ecosystem ecologist with particular research interests in the ecological and biogeochemical dynamics of tropical and temperate grasslands and savannas. He approaches these subjects at a range of spatial and temporal scales, from detailed plot-based experimentation, to landscape-scale observations, to landscape, regional and continental scale remote sensing and modeling. His on-going research projects are strongly interdisciplinary, including theoretical, empirical and model-based studies of the ecology of drought-seasonal grasslands, shrublands and savannas, the role of human management of grazing, fire and other disturbances in ecosystem dynamics, the use of micrometeorological techniques to study vegetation-atmosphere exchanges of carbon and water, and the use of remote sensing and geospatial datasets to measure and model ecosystem dynamics at landscape, regional and continental scales. Niall has published more than 90 peer reviewed scientific papers with research support from a variety of agencies (including ongoing or prior support from the National Science Foundation, NASA, USAID, National Geographic, Fulbright, Department of Energy, and NOAA).
Education:
Liverpool Polytechnic, Applied Biology, 1st Class Honors BSc. 1985
Queen Mary College London, Biology Ph.D. 1990
Appointments:
New Mexico State University, PES Professor of Dryland Ecology 2017 - present
South Dakota State University, GSCE Professor & Senior Scientist 2011-2016
Colorado State University, Natural Res. Ecology Research Professor 2007-2010
Université de Bamako, Mali Fulbright Teaching-Res. Award 2007-2008
Colorado State University, NREL Research Associate Professor 2001-2007
Colorado State University, NREL Research Assistant Professor 1998-2001
Professional Experience:
Niall is a Professor of Dryland Ecology in the Plant and Environmental Sciences Department at New Mexico State University. After receiving a PhD in Biology (range ecology and remote sensing) from the University of London (Queen Mary College, 1990) Niall held post-doctoral appointments at the University of Maryland, in Wageningen (Netherlands) and at UC-Santa Barbara. Niall then joined the Natural Resource Ecology Laboratory (NREL) at Colorado State University where he spent 12 years as an Assistant, Associate and finally Senior Research Scientist studying the ecology of tropical and temperate savannas and drylands. In 2011 Niall moved to the Geospatial Sciences Center of Excellence at South Dakota State University where his research focused on the ecology of tree-grass systems and the study of savannas and grazing lands as coupled social-ecological systems. He moved to NMSU in January 2017 to join PES where his research now includes a new focus on the ecology of southwestern US grasslands and shrublands. Niall is currently a lead PI of the NSF-funded Jornada Basin long-term ecological research program.