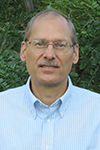 Title: Professor Emeritus of Agronomy
Research Area: General Agronomy and Sustainable Agriculture, Acequia Hydrology
Education:
Ph.D., Agronomy, 1986, University of Minnesota

M.S., Agronomy, 1984, University of Minnesota

B.S., Geography, 1981, Mankato State University
Professional Experience:
Professor, 2003-2022, Associate Professor, 1998-2003, Assistant Professor, 1992-1998, Department of Plant and Environmental Sciences, and Superintendent, 1992-present, Alcalde Sustainable Agriculture Science Center, New Mexico State University. Research on various horticultural and agronomic crops. Cooperated with other researchers on additional projects: grazing systems, acequia (irrigation ditch) hydrology, turfgrasses.
Agronomist, Michael Fields Agricultural Institute, East Troy, Wisconsin. Cooperative
project with, and located at, North Dakota State University's Carrington Research
Extension Center, Carrington, North Dakota, 1988-1992. Headed project investigating,
both on-farm and on-station, the potential for greater use of legumes in crop and crop livestock systems in the Northern Great Plains.
Postdoctoral Fellow, International Maize and Wheat Improvement Center (CIMMYT).
El Batan, Mexico, 1986-1988. Maize Training Program. Instructed in field and
classroom several groups of maize trainees in on-farm and experiment station
research procedures.
Research Assistant, University of Minnesota, St. Paul, MN, 1982-1986. Soybean
Physiology Research Project.
Farmhand, Sleepy Eye, MN, childhood-1982.
Awards and Honors:
Mobley Family Endowed Distinguished Research Award, 2016
Jose Fernandez Memorial Chair, 2016-2019