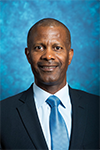 Title: Regents Professor Emeritus and former Department Head of Plant and Environmental Sciences
Research Area: landscape and ornamental horticulture, environmental stress physiology, molecular ecophysiology
Education:
Ph.D., Horticulture, Iowa State University, 1998

M.S., Horticulture, M.S., Horticulturem 1994

B.S. (Magna cum laude), Horticulture, University of Puerto Rico, 1992

Diploma (Honors), Agriculture, Eastern Caribbean Institute of Agriculture and Forestry (E.C.I.A.F.), Trinidad, 1985
Professional Experience:
2016 (June 15) – Present: Department Head, PES, NMSU, 15% teaching, 75% Administration and 10% research
2015 (July 1) - 2016 (June 15): Interim Department Head, PES, NMSU, 25% teaching, 65% administration and 10% research.
2014 - 2015: Assistant Department Head, PES, 50% teaching, 25% administration and 25% Research.
2008 - Present: Professor, PES.
2004 - 2008: Associate Professor, PES (formerly Agronomy and Horticulture).
1998 - 2004: Assistant Professor, Agronomy and Horticulture, NMSU. Initial appointment: 32% teaching and 68% research.
1994 - 1998: Research Assistant, Iowa State University. Evaluated the ecophysiology and genetic diversity of hard maples indigenous to eastern North America.
1992 - 1994: Research Assistant, Department of Horticulture, Department of Agricultural Mechanization, University of Puerto Rico.
Membership in Professional Organizations and Academic Honor Societies
Alpha Zeta and Gamma Sigma Delta

American Society for Horticultural Science

American Society of Plant Biologists

American Society of Landscape Architects (full member)
Awards and Honors:
2008 Texas Environmental Excellence Award in Agriculture. Group Award-Presented to researchers in the Rio Grande Basin Initiative Program. Selected as spokesperson to present case before Texas Commission on Environmental Quality.

2008 Distinguished Research Award, College of Agriculture, NMSU

2007 Faculty Appreciation Award, Plant and Environmental Sciences, NMSU.

2006 Distinguished Award for Graduate Teaching/Advisement, Gamma Sigma Delta.

2006 Leadership and Dedication Award, Planning Committee of the 1st symposium on efficient water use in the urban environment.

2005 Faculty Team Research Award, College of Agriculture, NMSU.

2002 Distinguished Teaching Award, College of Agriculture, NMSU.

2002 Honorary Degree, New Mexico Future Farmers of America.

2001 Patricia Christmore Faculty Teaching Award, a university-wide award for junior faculty excellence in Teaching, NMSU.

1997 Campus Leadership Award, Iowa State University.
Academic Distinctions:
1992 Ralph S. Garwood Award -Top of the class-University of Puerto Rico at Mayagüez.

1988 Selected for a Caribbean Scholarship Award (B.S. and M.S.).

1985 Proficiency Award in Farm Practicals and Caroni Prize, ECIAF.

1984 Agricultural Development Bank Prize, Federation Chemicals Prize, Director's Prize, Barbados General Agricultural Society Prize and Student of the Year Award (ECIAF).

1983 Canadian International Development Agency Full Scholarship to ECIAF.