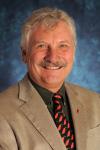 Research: Chile Breeding and Genetics
Research area:
Dr. Paul W. Bosland, Regents professor of horticulture, is popularly known as the "Chileman." He leads the chile breeding and genetics research program at New Mexico State University. Dr. Bosland is recognized internationally as one of the foremost experts on Capsicum. He has published more than 100 scientific papers dealing with chile genetics, breeding, and germplasm evaluation. He is also the co-founder and director of the Chile Pepper Institute at New Mexico State University. The Chile Pepper Institute is the world's foremost research-based resource center for chile pepper information. He serves as co-chairman of the International Chile Pepper Conference. The Conference has grown to become the world's largest conference dedicated to the chile pepper. He is the founder and curator of the Capsicum Genetics Cooperative and served as the chairman of the USDA Capsicum Crop Advisory Committee.
Education:
University of California B.S. 1976 Genetics Davis, CA
University of California M.S. 1977 Vegetable Crops Davis, CA
University of California Voc. Ag. Cred. 1980 Vocational Ag. Teaching Davis, CA
University of Wisconsin Ph.D. 1986 Plt. Breeding & Genetics Madison, WI
Professional Experience:
He has received many honors and awards including named a Regents Professor, Fellow of the American Society of Horticultural Science, the NMSU College of Agriculture and Home Economics Distinguished Researcher Award, inclusion in Who's Who in America, Wilson's Guide to Experts in Science and Technology, 2000 Outstanding Scientists of the 20th Century, the Distinguished Award for Graduate Teaching/Achievement Gamma Sigma Delta, and the infamous Ig Nobel, at Harvard University. He was honored by the European Scientific Committee on Capsicum and Eggplant by being the first American ever selected to serve on this Committee. Dr. Bosland and his program have been featured in many media outlets. These range from Smithsonian Magazine, National Geographic, New York Times, New Yorker Magazine, Men's Health, Martha Stewart's Living, National Public Radio, CBS Sunday Morning, Scientific American Frontiers, Food Network, Discovery Channel, to name just a few, and was highlighted in the award winning video "Green Gold - From the Maya to the Moon." He even has been an expert consult to the television show "Who Wants to be a Millionaire?"
At U.C. Davis, he earned his B.S. degree in 1976 in genetics, and an M.S. degree in vegetable crops in 1977. While at U. C. Davis, he also earned a secondary teaching credential and subsequently taught at the high school and the community college level. Additionally, he worked in the Cooperative Extension Service as a Research Associate administering vegetable trials in California. After these experiences, he returned to school at the University of Wisconsin-Madison, and earned his Ph.D. in Plant Breeding and Plant Genetics in 1986. He joined the faculty in the Department of Horticulture at New Mexico State University in 1986, where he rose through the ranks to full professor in 1994.
In addition to his extensive fundamental and applied studies, Dr. Bosland has provided the opportunity for numerous graduate and undergraduate students to learn about the facts and excitement of chile peppers. His research has graced the covered of International Science journals and one of his cultivars, 'NuMex Twilight', has been acclaimed by Organic Gardening as a 'Plant Worth Having'. Likewise, he has generously devoted his time as a classroom teacher in undergraduate and graduate courses and is highly regarded for his teaching skills. He receives very high compliments from his students in all of his courses. He has made international graduate education a cornerstone of his program. Dr. Bosland is a member of American Association for the Advancement of Science, American Society for Horticultural Sciences, Gamma Sigma Delta, New Mexico Academy of Science, and Sigma Xi. Released more than 30 cultivars since 1988.
SELECTED HONORS AND RECOGNITIONS:
Capsicum Crop Advisory Committee - Elected Chair
Member of the Scientific Editorial Board of the journal Euphytica
Consulting Editor, Journal of American Horticulture Society
Member of the European Scientific Committee for Capsicum & Eggplant
Director NMSU Chile Pepper Institute
New Mexico Chile Pepper Conference - Co-chair
Dona County Cooperative Extension Volunteer Award - 1990
NMSU Distinguished Research Award - 1995
Gamma Sigma Delta, The Honor Society of Agriculture - Elected President
Globe of the Month Award, International Programs, 1998
Gamma Sigma Delta Distinguished Graduate Teacher/Advisor -1999
Ig Nobel Award Harvard University - 1999
NMSU Graduate Council - Elected Chair
Wilson Guide to Experts in Science & Technology - 1999-2004
Finalist for the Dennis Darnell Faculty Achievement Award - 2000
University Research Council Award for Exceptional Achievements in Creative Scholarly Activity, 2002
Academic Keys Who's Who in Agriculture Higher Education - 2002
Regent's Professor - 2003
Nominated for the State of New Mexico Service Award - 2003
American Society of Horticulture Science Outstanding Graduate Educator Award - 2004
Faculty Appreciation Award, Dept. Plt. & Env. Sci., NMSU - 2006
Finalist for the Michael P. Malone International Leadership Award - 2006
Fellow of the American Society for Horticultural Science